Bokang Mokoena: Founder of PYMA
Follow the below link to read an interview with Bokang on his journey and motivation to set up PYMA.
Lethukuthula: Graduate and Tutor at PYMA
I joined the afterschool programme at Phakamani Young Minds Academy (PYMA) when I was in Grade 8.  I was motivated to join PYMA as I saw other children who attended PYMA excel at school and I also wanted to excel. My father supported me to join PYMA. 
PYMA has really contributed a lot to my academic outcomes.  Soon after joining PYMA I noticed a significant improvement in my academics. The difference before and after PYMA was amazing! I also started to receive academic awards at High School and at PYMA. This motivated me even harder.
The programme provided me tutorials and even offered me data to keep up with my school work during the National Covid-19 Lockdown. 2020 was difficult and the pandemic really did impact my life and especially my academics, but however I still managed to do well in my exams and was awarded two distinctions in History and Tourism. I was so proud of myself.
Though PYMA, I was also able to achieve my dream to study further.
Now I am pursuing this as a student at the University of Johannesburg. This was not easy because I didn't have fees to register for university.  However, PYMA paid for my registration as an award. I couldn't be more thankful. Every day I still thank PYMA for their consideration, and consider myself blessed. Without PYMA's support, I would not be able to study and reach my dreams.  I am now supporting PYMA as a tutor to help give other children the chances I had through PYMA.
PYMA has, is, and that will keep playing a huge role in my community. With all the negativity in this township, PYMA keeps my peers and many young children occupied through helping them stay away from the effects of various socio-economic issues that may hinder the brightness of their future.  PYMA is creating our future doctors, lawyers and great leaders that will and already do contribute positively to the economy of South Africa.
To the donors/funders that make provision of the PYMA programme possible I would like to say thank you. You are my heroes for what you are doing for children.  This makes the quote from the great Nelson Mandela more understandable and clear: '' Education is the most powerful weapon which you can use to change the world''. For everything you do I am forever grateful.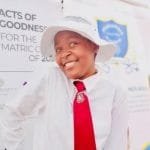 Students Story: PYMA Award Recipient
When I was 13 years old, I begged my father to enroll me to the Phakamani Young Minds Academy programme, little did I know that my interest would be the steppingstone to my ambitions and courage wrapped in a sandpaper. I have always been an introvert who hid at the corner and never voiced out any of my opinions on how I could possibly change the world, however; I have always known the burning fire in my spirit but never knew how to not let anyone extinguish the passion and drive I possessed inside. My best inspiration came in some pricks, thorns and some nails around it. PYMA is a beacon of hope to the Freedom Park community, it provides endless possibilities and molds our dreams to reach beyond the heights of our parents. I never imagined completing grade 12 and furthering my studies at any tertiary institution, this is not because I was not the smartest or the brightest, but it was mainly because no one has ever done it before in my family and defying the odds seemed preposterous.
The world proclaimed that COVID-19 milieu was a huge hindrance to the class of 2020, as much as I was a victim of the pandemic, I chose to rise because I knew that falling would not gratify the hard work I had endured, and it would dissatisfy me to be one of the statistics in my family. Hard work and consistency always have good results, I obtained two (2) distinctions in History and Tourism. I was over the moon and forever will be thankful for the contribution PYMA has impacted in my life.
It is liberating to know that I have been accepted to study BA at the University of Johannesburg, I know that it would not have been so without PYMA. As a reward, the latter paid for my registration fee, and I could not believe my eyes nor my ears. Thank you to Momentum Metropolitan for supporting PYMA with the Lesedi Awards such that they could support students like me. It was as though the heavens were opening to let me in. The reality is due to my financial constraints, this could have led me to take a gab year. PYMA has, is and will always keep playing a huge role in my community. With all the negative energy in this township, PYMA keeps my peers and many others that are younger than me occupied, helping learners stay away from the effects of various socio-economic issues. PYMA is creating our future doctors, lawyers and a lot more greatness that will and already is contributing positively to the economy of South Africa.
I am thankful to the selfless tutors, staff members and the organization for their vigorous efforts to the impact of our academics and our entire being, from the depths of my heart you are all my heroes. ''Education is the most powerful weapon which you can use to change the world." -Nelson Mandela.
Once more and forever more, thank you.
Phindile Nkosi: Student at PYMA academy
Why are you inspired to attend the  PYMA Afterschool Programme?
There are many reasons that motivate me to attend the PYMA Afterschool Programme. Firstly, it is because I would like to  accomplish my set career goals and secondly, to improve and excel well in my academic marks. Also, as I excel well at school, joining PYMA motivated me to also work hard with other learners whilst supporting each other.
Describe your journey with PYMA  thus far?
I joined PYMA in 2014 when the organization was established. I can say my journey with PYMA has been exciting, fulfilling and intriguing at the same time. PYMA  contributed a lot to my academic success, and I continue to excel at school. What is also interesting is that my previous Tutor, Mr. Bokang Mokoena also helped me pass with flying colours and for that I am grateful. The journey with PYMA  also made me grow as a learner and gain knowledge in the careers that I would want to pursue when I finish school. At school, I also used to receive awards in different subjects and PYMA contributed a lot to my academic success. In 2017, I was selected to participate in the SSP scholarship programme entrance exams and this was through the support of PYMA, who helped me to apply.
Which Awards have you received at school and at PYMA thus far?
As a learner at PYMA, I have to attest that, I've received an innumerable number of awards, including being a Top Achiever. Also, during my Primary years, I also received Top Overall Learner Awards
Nkosinamandla Jeju: PYMA graduate
PYMA and Sawabona Africa are very proud of Nkosinamandla Jeju, a 2020 graduate who obtained two distinctions in Tourism and Life Orientation in his final exams for 2020. Nkosimamandla was awarded a Bursary from the University of Johannesburg.
Nkosimamandla has also been awarded a scholarship to study in the USA.
Nhlonhlori Ndlovu: PYMA graduate
Meet Nhlonhlori Ndlovu, one of the PYMA Top Achievers who excelled well in her Matric Exams. She was proffered with 3 distinctions in the National Senior Certificate (NSC) subjects. As she was invited to our recent Parents Induction Meeting, she stated that she was very thrilled to be a top achiever and cannot wait to begin her studies at one of the top institutions in South Africa.
Nhlonhlori Ndlovu has since been accepted at the University of Witswatersrand to study BCOM Accounting. She also stated that through her hard work and resilience, she has managed to achieve her educational goals. More so, through the support of PYMA, Nhlonhlori has been very dedicated to the Afterschool Programme. In recent years, she was also paired with a mentor who has aided her in devising high school exit plans and choosing the right career path.
Nicky: First Bright Start Graduate
I joined Bright Start when I was six years old. I didn't know much about the decision at the time, but I know now that it was my parents and their commitment to my education that resulted in me being offered a place on the programme. That and the fact that, apparently, I showed some early promise! I have grown up my whole life in Imizamo Yethu, a township in Hout Bay. Both my parents are domestic workers. Life hasn't always been easy but throughout my life they have given me the very best they can.
The impact that Bright Start and my sponsors have had on my life has been pretty huge – not just in terms of school and my education, but in terms of how I have developed and grown as a person. They helped me discover my strengths and my weaknesses, and everything in between. In that sense, Bright Start has been like a parent to me.
I went to Kronendal pre-primary in Hout Bay and loved being involved in as many aspects of school life as possible. I did well at Kronendal – well enough to earn a place at the German School (DSK) in Grade 5 – and so began an amazing and challenging journey. Suddenly I was at a school where the culture, language and education style were unfamiliar. I quickly learnt to speak German, but integrating and adjusting were a greater challenge, and took time and determination.
In year 11, I was selected to represent the DSK on a school trip to Germany. It was incredibly exciting but tainted by the fact that I had to raise funds for the trip. The only way I would be able to go would be to reach out and ask for help. With the help of Bright Start and the DSK, I set up a crowd-funding page and was so delighted when the German community and the wider Cape Town community came together to make my trip possible.
It was a truly life-changing experience. Germany opened my eyes to a world of opportunity and possibilities, and it was definitely a culture shock. I discovered a whole other world out there – one where townships like ours didn't exist – and it gave me the stimulus to truly better myself. I decided I wanted to go to university after leaving school and to study a subject that would allow me to experience more of the world.
And then Covid hit. Our school shut and we had to study online. I couldn't participate without access to the internet. Once again I asked for help. Bright Start supported me and found a sponsor who provided me with data while my school established its own data distribution system.
When it came to applying for university, without the necessary resources at home, Erin at Bright Start was invaluable in helping me with the process. When eventually I sat my final exams, I was in the fortunate position to have received three offers from prominent universities.
So here I am today, studying for a BA in International Studies at the University of Stellenbosch, and laying down the foundations for an incredible and exciting future. I have big dreams and I don't think I know where they end – they certainly have no limit. Bright Start helped me see and shape my future, and with their help I am realising my end goal – to succeed by getting the education I need to have a brighter future.
With so much gratitude to my family, Bright Start, my sponsors and DSK for helping me get here.
Serufe Monare: Student at PYMA academy
What do you think about the role of PYMA in the community?
I am inspired by the work that PYMA does in the community, and this takes into consideration, the learners that are attending the PYMA Programme. PYMA has played a very important role in the community, we understand that not all learners have the opportunity of getting home and doing their homework and assignments. PYMA helps learners by tutoring and providing facilities for learners to come and do their schoolwork  as well as research
How has been your experience with PYMA thus far and how has the latter helped you to achieve your academic goals?
My journey with PYMA has been good and empowering because since I started in 2020, during the COVID-19 pandemic, my marks have improved and the dedication from the PYMA team is very good with the tutors coming in and delivering content that is in line with the curriculum at school. I was also paired with a Mentor from Vodacom Foundation and the experience has been very exciting. Also, I am grateful for the PYMA tutors who are always available to assist me perform well in all my school subjects. I also applaud the PYMA Office staff who always check up on us and do follow-ups and motivate us and all learners to attend the Afterschool Programme.
What are your plans when you complete Grade 12?
I have a lot of plans that I would like to accomplish when I finish Grade 12. My most outstanding plan is to see myself excelling in my academics and then enrolling for a degree in Medicine or Software Engineering at a local University
Lerato Lawrence Makema:  PYMA Tutor
I was born in Baragwanath hospital but spent most of my childhood in Robertsham. I attended primary school at Sophia English Medium in Lesotho and completed my matric at Fons Luminis Secondary School in Diepkloof, Soweto. I further enrolled at the University of Johannesburg for a four (4) year degree in B.Ed. Senior and FET ( Bachelor of Education) in 2016 and completed in 2018.
I am glad to be a graduate and I promise my former, present and future learners that I will not be just a teacher in their lives who is imparting knowledge but a teacher who is a transformer, I believe in change and living life to the fullest. When one decides to make an informed decision about their career choice, everything else comes secondary and all things are worth the sacrifice. My grandmother's efforts and attempts deserve more credit to my hard earned four (4) year degree in Bachelor of education (B.Ed.).
I am very happy to have joined volunteered at PYMA since  2016. I have also gained lots of skills and experience through interacting with learners. Through their support and also my family's support, I have able to finish my degree. My grandmother carried my struggles and burdens as if they were hers, she knew that we were both counting on my qualification that will alleviate both our lives. She heroically sacrificed her pension money and gracefully reminded me that she only wants me to worry about assignments and my examinations other than funds for my tuition. Her strength and strong faith carried me through tough times and moments which felt like I was in abyss, she was only a phone call away more like therapy.
More so, my life was more occupied with volunteering activities at Phakamani Young Minds Academy (PYMA), had friends, and overwhelming schoolwork that was endless. Above all, I am glad I did go through all of that and was able to achieve all of my desired goals. Lastly, I believe in change and living life to the fullest hence I encourage other young people to also embrace the same spirit
Lerato has been a Tutor since 2016 and currently serving as a qualified Teacher at Somelulwazi Primary School
Diego: Bright Start graduate
Diego has been on the Bright Start program since pre-school and has just completed Grade 12.
This bright learner has an even brighter future & already achieved so much.
His hard work & dedication has earned him a spot in the top 14 learners at his school Camps Bay High Cape Town. He has great leadership abilities & was selected as house captain at his school.
Diego was also selected to go to Italy on an elite soccer training camp and raised money to do this through selling sausages and burgers from his home in Hangeberg.
Diego's mom has been instrumental to all his achievements and very supportive of his learning journey.
Diego has been accepted to study at university, and awarded a Rotary Scholarship to support him throughout his studies
Dominic Duval: Friend of Sawabona Africa
I am a humanist, a naturalist enchanted by the wonders of nature, and in more recent years focused on the condition of our planet. She needs space to breathe. To slow down the rate of consumption. To give time to fill her lungs again.
And I am also a very proud friend of Zilla, the founder, who has found a way back to her timeless tireless caring African roots, which we shared.
I've experienced life on many levels – from the finance world, to marketing, to IT Public Relations, to sports licensing, to the World Cup Soccer Bid in SA for 2006.
I sought a closer connection with humanities and engaged with the NPO world – street kids, abused kids, HIV/AIDS, and educational programmes.
During this time I met Sr Ellen, who was the Mother Superior of the Nardini Sisters in Nkandla (Kwa-Zulu Natal), a Doctor by qualification, and founder of the Sizanani Outreach Programme. I eventually moved to Nkandla from Cape Town, to live with 14 nuns in their convent, for 4 years. I went to help with the programme. Nkandla has the worst statistics for HIV/AIDS, Tuberculosis, unemployment, teen pregnancy for any ward district in South Africa. It's also where our past President Jacob Zuma came from. Yet somehow the media and state overlooked this reality.
I relocated to Johannesburg to take on the role of National Project Manager for the largest commercial bank, ABSA, and later for Special Projects in Barclays Africa's 12 regions.
And then the bush, nature, wildlife, ecology, geography and photography.
The dance between light and dark, and a medium to convey my observations on the diminishing natural world around us.
So blessed to be able to be a part of this timeless tireless caring platform. Sawabona Africa!
Athenkosi: Bright Start graduate
Athenkosi completed High School in 2021 with a bachelors pass and has now started Tertiary education. Her journey was a huge challenge and it took a lot of hard work to get to where she is today.
Athenkosi had challenges in her teenage years. Her parents divorced and she lost motivation to study and she was close to dropping out of school. At one point, Bright Start thought that she would fail as she lacked focus, drive and commitment to her studies which was evident in her poor results.  She started missing classes and it was clear she needed support.  Through the focus, dedication of the education specialist at Bright Start, she was urged to partner with her, and push through to the final lap.  This took many tears, lots of resistance, but she finally pulled through. 
She is now a very proud school leaver, with a bachelors pass and equipped to start her Tertiary education. Well done Athenkosi.
Phumlani, a tutor at PYMA dedicates a poem to Sawabona Africa and PYMA. Thank you Phumlani, you are an inspiration to all of us young and old.
Sawabona Africa Sawabona PYMA
My Name is Phumlani nxala 
I'm 21 years old, I live in Johannesburg South Africa, I'm passionate about helping people. I am a visual artist, poet and rapper. I love recreating things that I see Feel and Tell People stories through My Work. 
I believe the World Could Be a Better place, if people would be more kind to one another…Through that I live my everyday being Kind to everyone
Sawabona Africa Sawabona PYMA
We know we need it
We know we have to be
No doubt we understand the benefits
So let's be patient , So let's be patient
well I'm a patient who doesn't have patience
how absurd
That I have huge dreams goals but I'm not patient ,
how unwise ?
To find ourselves in a Generation of quick fix
A generation that has brilliant Ideas the surpasses the matrix
But get this
We all can Have this
Only if we just be more Patient
See patience is the reason You will succeed at the end
Patience is what brings trust in a family
Patience is what can bring our ideas to life
Sawabona Africa Sawabona PYMA
We know we need it
We know we have to be
No doubt we understand the benefits
So let's be patient, So let's be patient
We can show our benevolence
We can touch the stars
We can be the stars
We can change our flaws
The world will be change by us
We are the chosen ones
The time is now
All we need is to wait
Because in the wait part
we can learn a lot
Like how to change our minds
And focus on God
It will all work out for the the good
we all can do it
We all have the potential
The power is in our minds
Let's be patient
And change the Universe
Continue
Collapse